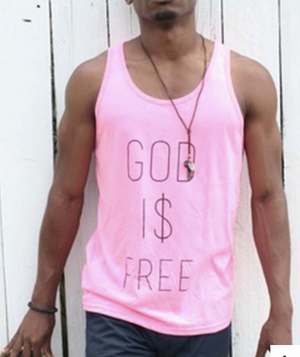 God is Free- Jesus Shirts
God is Free Jesus Shirts
God is Free Jesus Shirts are here and available through our online store starting today! The men's clothing item is in a great pink color and features the phrase "God is Free." The tank top will definitely become your favorite piece in your closet! The God is Free Jesus Shirts are a stylish option that support a great cause. Your purchase will go towards donating a care package to individuals around the world you need our help. At Malachi Clothing, we donate our proceeds towards such individuals and work to help end homelessness around the wold. With your God is Free Jesus Shirts, you will receive a free prayer bracelet and prayer request as well.
Contact Malachi Clothing Today
Contact Malachi Clothing today for any questions regarding our apparel or donation process. One of our team members will work with you step by step and answer any questions you may have. Or, simply visit our online store at http://malachiclothing.com/ to see our full line and choose your favorites! Also, we have photos and videos that will help you see the work that we do! We look forward to hearing from you and to making a difference with you!