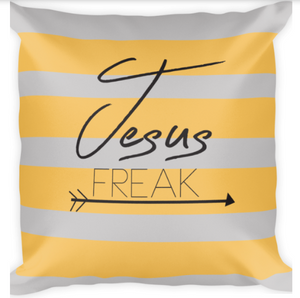 Jesus Freak Pillow - Christian Designs
Jesus Freak Pillow Christian Designs
With Malachi Clothing, you can now make your room or home a place to express your passion and faith! The Jesus Freak Pillow Christian Designs item is one of the latest additions to our online store. The unique pillow is a customer favorite! With yellow and grey coloring, and the words "Jesus Freak," written on the pillow, the product is a great stylish touch for your home. Our customers love being able to add more of what they love into their home, and the Jesus Freak Pillow Christian Designs is a great addition. Also, purchase the pillow as a gift for people you know love sharing their faith as well.
Purchase Today and Make a Difference
With your purchase of the Jesus Freak Pillow Christian Designs product, you will know you are making a difference in the world. When you purchase the pillow, Malachi Clothing will make the donation of a care package in your name. At Malachi Clothing, we created our company with the goal of helping those in need and ending homelessness globally. With your purchase, you are helping us continue our mission. We will thank you by sending a free prayer bracelet with the name of the individual who received the care package. Therefore, you can see exactly whose life you changed for the better. Also, we will include a prayer request in the package. Visit us online today for more information or to contact us. We look forward to hearing from you!