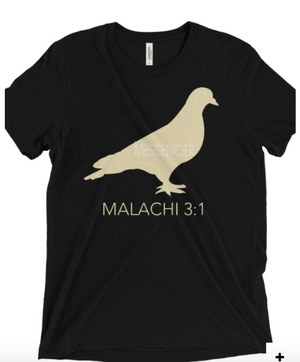 Messenger Black- Christian T-Shirt
Christian T-Shirts Messenger Black T-Shirt 
Shopping has never been more rewarding! Spread your faith and help the needy today with the purchase of the Messenger Black Christian T-shirt through Malachi Clothing! We at Malachi Clothing can help you purchase not only Christian apparel, but also apparel that helps you donate to the needy!
How Your Messenger Black Christian T-Shirt Helps!
The Messenger Black Christian T-shirt for sale today is available with many benefits. With your purchase through Malachi Clothing, you are giving back to those in need. When you purchase the T-shirt, we will send a care package to someone in need. You will receive an additional free prayer bracelet when your t-shirt arrives. On that bracelet you can see the name of the specific person that was able to receive the care package you donated! A prayer request will be attached as well.
Join our other Customers in Making a Difference Worldwide!
Join others who have donated through Malachi Clothing and make a difference to the homeless and others in need. Your Messenger Black Christian T-Shirt is a charitable piece you and the person you helped will appreciate! Visit us online today for more information on our mission or to see specific apparel, sizes, colors, and more!