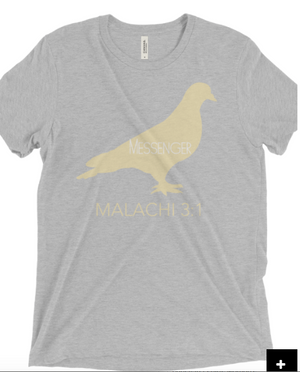 Messenger Gray- Cool Christian T-Shirts
Messenger Gray Cool Christian T-Shirts
At Malachi Clothing, our Messenger Gray Cool Christian T-Shirts are one of our most popular Christian apparel items! The grey t-shirt is perfect for men or women, and features a cool graphic design that includes a bird and a bible phrase. The t-shirt comes in various sizes including Mustard Seed small, David medium, Goliath large, or Goliath extra large.
Your Purchase Makes a Donation
Our customers love the t-shirt because it lets them share their faith with others and also helps our company make a donation. With your purchase of the Messenger Gray cool Christian T-Shirts, we will make a donation in your name to help someone struggling. When we deliver your t-shirt we will include a free prayer bracelet as a gift for your purchase. On the bracelet, you will see the name of the exact person whose life you affected in a positive manner.
Learn More About What We Do!
Visit us online at http://malachiclothing.com/ to purchase the Messenger Gray Cool Christian T-Shirts today. Also, learn more about our company's mission and to read more about the work we do. You can also watch videos or read stories to hear exactly how your purchase is making a difference.