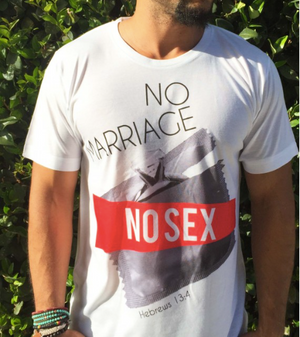 No Marriage No Sex - Christian T-Shirts for Men
No Marriage No Sex Christian T-Shirts for Men
At Malachi Clothing, we are passionate about honoring God and sharing our faith. Marriage is sacred to us and we wish to share our passion about saving sex for marriage. Take the pledge for yourself to save sex for marriage. One of our men's t-shirts allow you to share your pledge. The No Marriage No Sex Christian T-Shirts for Men are a great way to share the positive message. Also, The white t-shirt features a unique graphic design and the words "No marriage, no sex." When you purchase the t-shirt, we will donate a care package to someone in need. The package will have supplies they need to survive such as various hygiene products. Additionally, you will be helping us not only send supplies to those in need, but also prayers and hope.
Contact Malachi Clothing Today
Contact us at Malachi Clothing today or visit our online store at http://www.malachiclothing.com/ There you can purchase the No Marriage No Sex Christian T-Shirts for Men or view our other apparel options for both men and women. Also, you can see images and videos that explain the work that we do at Malachi Clothing and the people we have helped so far.