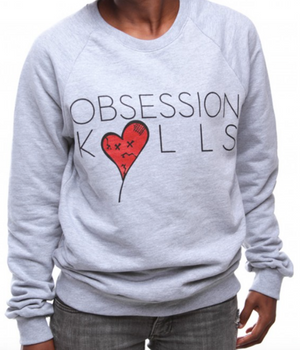 Obsession Kills- Christian Design
Obsession Kills Christian Design
We know you are going to love our Obsession Kills Christian Design sweater! The sweater for men is available in the color grey and includes a great graphic design in the color black. A red heart is featured as well. The stylish piece is a customer favorite we love!
Join Malachi Clothing
Join us at Malachi Clothing and help us continue our mission. Together, we can end homelessness and help those in need all around the world. With your purchase of the Obsession Kills Christian Design, you will be making a donation. We will use the proceeds we make for the purpose of donating a care package to an individual in need of our help.
Contact Us Today
Contact Malachi Clothing to see how you can start helping people beginning today. We will talk you through the work that we do and even recommend clothing options for the people in your life. Or, simply visit our store online at http://malachiclothing.com/. There, you can purchase the Obsession Kills Christian Design sweater, or view our other options for both men and women. We look forward to hearing from you, and to working with you.