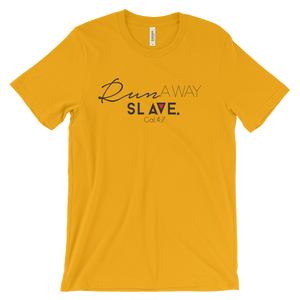 Runaway Slave- Christian Clothing
Malachi Clothing is excited to launch our latest addition to our men's Christian apparel line. The Runaway Slave Christian Clothing  for Men feature the same design of our other "Runaway Slave," shirts, but come in a great pink color! The T-Shirt is stylish and shares the same great message. The message represents how we should seek God in our life and hear and obey God's voice as it guides us through life.
Malachi Clothing Designs
All of the proceeds we make through our Malachi Clothing Designs go to help someone in need. We will use the money we make to donate care packages to people in need around the world. With the delivery of your Runaway Slave Christian Clothing for Men you will receive a free prayer bracelet as a gift. The bracelet will have the name of the exact person you helped with your purchase. Also, a free prayer request will be attached as well. Explore our online shop today to read more about the work that we do! You can see photos and videos to learn more about where exactly our proceeds go. Purchase the Runaway Slave Christian  for Men at an affordable price or view our other clothing options. Share your passion and make a difference beginning today!