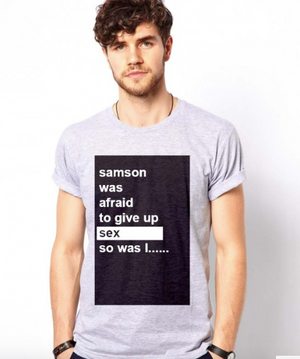 Samson - Christian Shirts for Men
Samson Christian Shirts for Men
Malachi Clothing, a Los Angeles based Christian Clothing company, offers religious fashion and apparel for both men and women. Our Samson Christian Shirts for Men are perfect if you are shopping for Christian Men's apparel. The grey t-shirt features a great graphic design and the words "samson was afraid to give up sex so was I." The mens t-shirt is a great way to share your faith and a positive message.
Purchase and Donate Today
Purchase Samson Christian Shirts for Men and we will donate a care package in your name to someone in need of our help.
The care package will include toothbrushes, deodorant, toothpaste, and more hygiene items people around the world desperately need.
With your purchase you will be sending supplies, hope, and prayers to someone in need.
Also, we will send you a prayer bracelet as a free gift with your Samson Christian Shirts for Men.
Visit Our Online Store
Visit our online website at http://malachiclothing.com/ to read more about our mission and the work that you do. Also, you can see images and videos of our company and partners to learn more. Our online store can also be accessed where you can by the Samson Christian Shirts for Men.