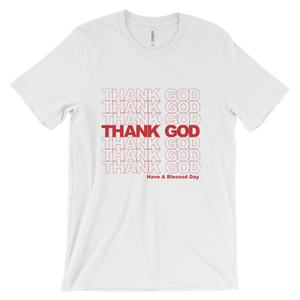 Thank God -Christian Clothing
Purchase and Donate. Making a difference has never been simpler or more stylish. At Malachi Clothing, our Christian Apparel including theThank God -Christian Clothing  are stylish options that share great messages. The apparel allows you to share your faith with others with just your clothing! The Thank God -Christian Clothing in particular have a great graphic design that captures attention and is a great fashion statement. Also, The t-shirt also includes the bible verse Malachi 3:1.
How Donation Works
You purchase the item of your choice and we make the donation of a care package to someone in need.
Once we send you your clothes, we will include a prayer bracelet with the name of the individual we donated to in your name.
In addition, a prayer request will be included in the package.
Visit Us Online
Visit us at http://malachiclothing.com/ to see images of the Thank -God Christian Clothing. Also, you can read more about our mission and the people we help with our Christian clothing line.