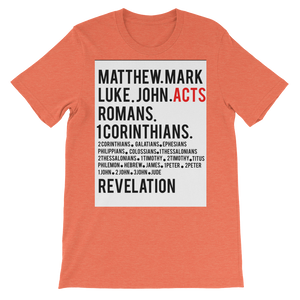 The Gospel
The Gospel
Unisex Christian T-Shirts
A white T-Shirt with a unique graphic design that shares a positive message? Say no more! We are sold! The gospel Women's Christian T-Shirts are a stylish way to wear your faith and share great messages with those around you. The women's t-shirt also supports a great cause. Your purchase will go towards donating care packages to individuals in need of our help. The packages include hygiene products such individuals need to survive. With the delivery of your clothing purchase, we will include a free prayer bracelet with the name of the individual you helped. Also, a free prayer request will be included.
Contact Malachi Clothing Now!
Contact Malachi Clothing today to speak with one of our sales representatives! Our team members can help you make your purchase and tell you more about our company. Also, they can explain our donation process further. Or, visit our online store at http://malachiclothing.com/ to view our entire collection of men's, women's, and children's clothing and accessories. There, you can purchase the Gospel Christian T-Shirts or any other item of clothing you desire. Images and videos with more information about our company and clothing are also accessible online. We look forward to making a global difference with you and to hearing from you!